From Cancun, Mexico to Whistler, Canada… on a mountain bike!
The Dufours, are two French brothers, Pierre, 21-year-old, and Thibaut, 34-year-old, that like a lot of Mountain Bikers, had a dream: To ride the Whistler Bike Park!
In December 2016, they decided it was time to make the dream come true. Going to "the mecca" of MTB, deserves a pilgrimage, that is why they took the radical decision of starting their trip from Cancun, Quintana Roo!
The plan was to travel 9,000 kilometers (5,592.3 miles) doing some "free-riding" along the way with the same bikes.
They couldn't use DH/Freeride bikes, too heavy to travel with, So they chose big enduro bikes, which will allow them to travel long distances, and are strong enough to support big jumps.
Pierre bought a 2017 Radon Swoop 170, 27.5″, and Thibaut kept his unbreakable Nicholaï ION 16 2013, 26″.
The brothers arrived in Cancun on the 17th of October, 2017. For two months, they travelled through the Yucatan Peninsula, which is a very flat part of Mexico, and they didn't find any place to do some free riding.
Still, they passed through amazing landscapes and discovered the very rich Maya culture.
To travel long distances, they used road tires, and change them when they reached a spot to free-ride. To make this trip a bit more crazy, they carried a trailer with them, and after two months on the road, in Oaxaca, they finally found a workshop to built their foldable ramp: 2.70 meters long, adjustable from 40 cm to 70 cm high, strong enough to support us at full speed!
The idea is that we could be able to jump everywhere on the way!
In Puebla they got to finally put their MTB tires on their bikes for a little session on the top of the local DH trail: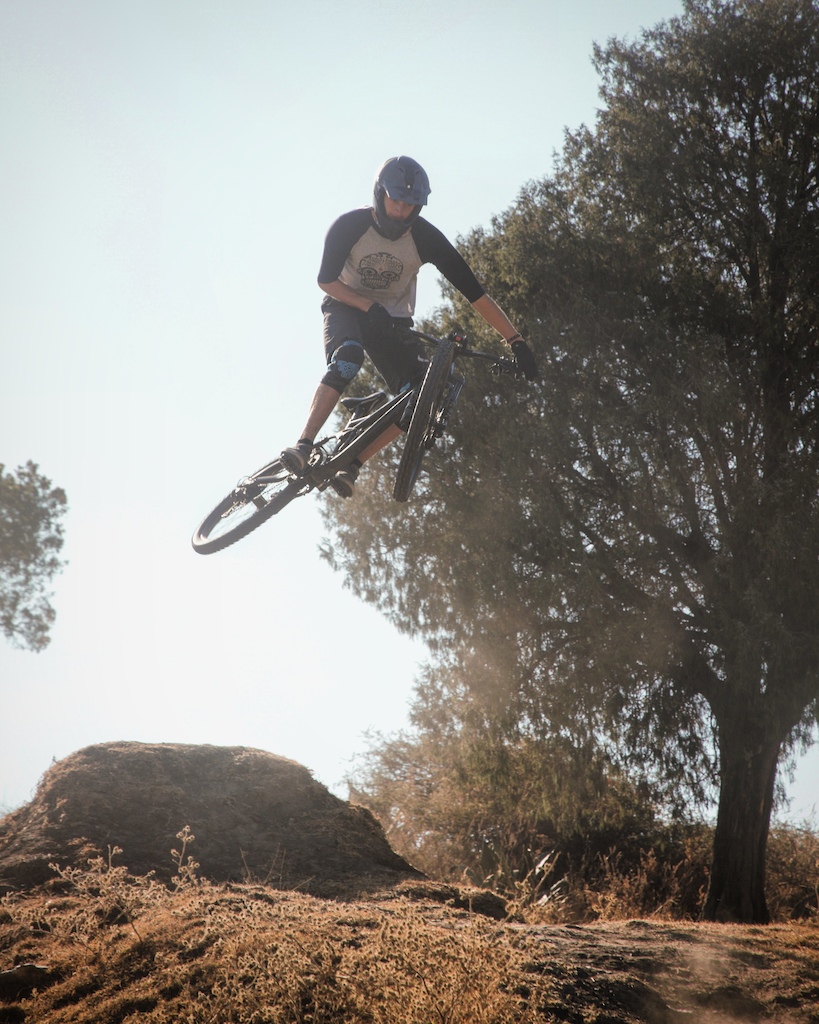 Arriving in Mexico City, the brothers met Alberto, a local rider, who showed them the best spot around: Amecameca. Thanks to Alberto, thet get to send a huge drop… "probably one of the biggest of our lives" said Pierre. This  impressive and safe at the same time, because the ramps were very well built.
A good warm up on their way to Whistler, Canada!
They were invited to a little village called Almaya, where a group of riders have some very decent trails. The brother said that these Mexican guys were very nice to them, they became friends and 3 of them decided to follow the frenchmen for a week on their trip across Mexico.
As they arrived in Puerto Escondido, Oaxaca, they got to meet an American couple, from Montana, travelling on a big sailing boat. They offered them to join them on the boat for 5 days, the brothers an amazing trip!
---
3 days later, they reached a little creek, with a nice mountain trail on the side. The occasion was perfect, they changed the tires, put the bikes on the dinghy, and left some lines on the mountain!
Further down the road, Thibaut declared: "Tijuana gets a bad reputation. A lot of people told us to be careful, or even to avoid passing by. That's when you don't know anybody there. We get to meet the local riders, and spend an amazing weekend of riding and camping on the trails! For us, Tijuana ROCKS!"
End of Part 1
Source: https://www.pinkbike.com/
Comments
comments