Analysis: Why Mexican autoworkers' wages stagnate despite car industry boom
At a ceremony at Mexico's Los Pinos presidential residence in July 2014, BMW Chief Executive Officer Harald Krüger pledged to spend $1 billion USD to build a factory in the northern state of San Luis Potosí that will employ 1,500 workers. To mark the occasion, he presented President Enrique Peña Nieto with a model of a silver BMW race car.
According to Bloomberg News, the German automaker had unwrapped its own gift two days earlier, a labor contract signed by a representative from the state chapter of the Confederación de Trabajadores de México (CTM), the country's largest union confederation, and notarized by a Labor Ministry official. The document, which Bloomberg reviewed, sets a starting wage of about $1.10 per hour and a top wage of $2.53 for assembly-line workers. The starting rate is only a bit more than half the $2.04 an hour that is the average at Mexican auto plants, says Alex Covarrubias, a lecturer at the University of Sonora in Hermosillo.
The paperwork was filed two years before BMW broke ground on the new plant, which will turn out $45,000 3 Series sedans. When workers begin to stream into the factory sometime next year, there's a good chance most won't know they belong to a union.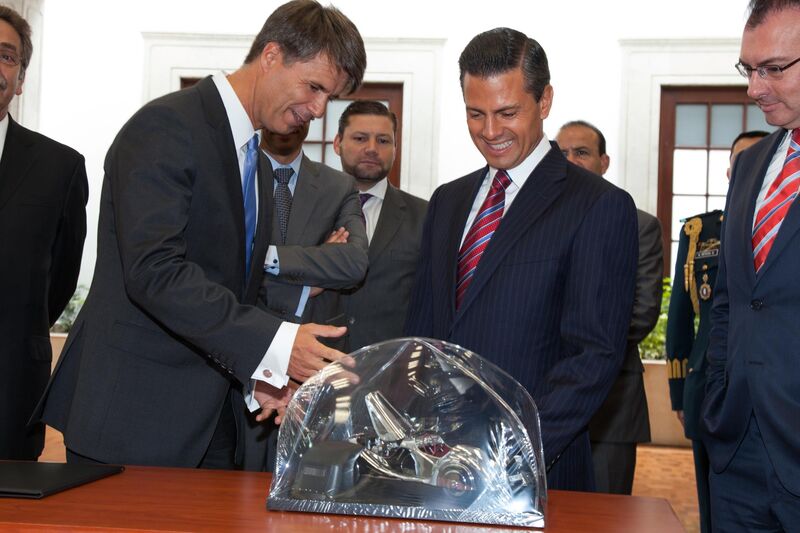 ---
---
So-called protection contracts— agreements negotiated between a company and a union that doesn't legitimately represent workers—are illegal in the U.S. and Germany. But Lance Compa, a senior lecturer at Cornell's School of Industrial and Labor Relations, says they're standard operating procedure in Mexico, where deals are cut factory by factory rather than collectively across a company or industry. Experts say this is a primary reason that wages in the auto sector have stagnated in recent years, despite a fresh wave of investments by foreign carmakers, most recently by German and Japanese manufacturers. Mexico's union bosses and politicians are more interested in keeping corporations happy than in raising the living standards of workers, Covarrubias argues. "Protection contracts are a way to keep wages artificially low," he says.
Since 2010, automakers have announced $24 billion in investments through 2019, while parts makers have committed another $3 billion, according to the Center for Automotive Research in Ann Arbor, Mich. Companies often cite the trade agreements Mexico has signed with 45 countries as a key reason they want to locate their plants there. Auto executives will rarely say they chose Mexico because its workers are among the cheapest in the world.
Mexican assembly-line workers earn about one-tenth of what their U.S. counterparts make. Adjusted for productivity, base wages for workers in plants that make transportation equipment rose 20 percent in Mexico between 2006 and 2016, according to calculations by Boston Consulting Group Inc.; in China, they climbed 157 percent over the same period.
To read complete article click here.
Source: bloomberg.com
Comments
comments