28-year-old bartender goes solo in Cozumel to complete her diving certification
This is how much a 28 year old American tourist spent on her solo diving trip to Cozumel, Quintana Roo.
Age: 28
Occupation: Freelancer copywriter and bartender
Salary: Approx. $55,000
Hometown: Brooklyn, NY
Trip Location: Cozumel, Yucatan Peninsula, Mexico
Trip Length: 9 days
Annual # Of Vacation Days: Freelancing means I can take however many days off I can afford without alienating both sets of bosses and coworkers.
Transportation
Costs: It would have been $521.97 but I redeemed 34,798 Chase Ultimate Rewards points towards it instead.
Accommodations 
Costs: 
This trip was arranged by my dive shop, 
Scuba Network
, in Manhattan. A five-night stay at 
Casa Mexicana
 was included in the package. It also includes hotel accommodations, transportation to and from the dive sites and hotels, breakfasts and lunches on dive days, three days of two-tank boat dives (six dives), a whale shark snorkeling trip, marine park fees, and one dinner. ($1,195) .
I added a few more days to my trip without the dive group, so I had to book accommodations for myself in Playa del Carmen. By booking my flight through Chase's travel portal, they sent me a bonus offer for an extra discount for hotel accommodations. I booked a room at 
La Tortuga
 for three nights at 13,480 UR points (the equivalent of $202.20).
Total: 
$1,195
Miscellaneous pre-vacation spending
$23.98  – The divemasters recommended getting some reef-safe sunscreen beforehand because it can be very overpriced on the island. Took to Amazon to get a bottle of 
Sun Bum
 and a 
small dry bag
 to keep my non-diving things dry (obviously) on the boat.
$63.23 – Normally I don't buy travel insurance, but there's going to be a lot of physical activity on this trip. I'm new to diving and didn't want to take any chances. Bought trip insurance from 
WorldNomads
.
$64.42 – Tequila and I are not friends, but as a bartender, it would be a missed opportunity to not attend a tequila tasting. I signed up for a tasting with 
Tequila Academy
. They were nice enough to offer a food pairing upgrade if I switched to a time when a food-pairing tasting was taking place.
$195 – I also needed to pay an additional $195 for the scuba certification referral, which is typical when you want to finish your certification somewhere outside your dive network.
$58.18 – In terms of scuba gear specifically for the trip, everyone had to get an inflatable diving signal to deploy when we are ready to ascend to the surface. Cozumel is known for its drift diving, which means you float with the current. And since the boats aren't allowed to drop anchor, they come to pick you up. The boat crew knows where you are, but the signal indicates you need to be picked up. I also get a few miscellaneous hooks to keep my gear properly secured.
$171.97 – I had to get a dive computer to keep track of personal dive information like depth reached, decompression time, etc.; a buoyancy compensator device (BCD), a vest used to hold the air tank and to assist in ascent and descent through the use of weights and inflating or deflating air into it; and a regulator to, you know, breathe.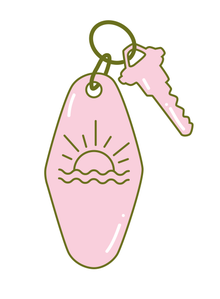 5:45 a.m. —  Of course my period comes. I don't know why I do this to myself. I am not a morning person. I had a night shift at the bar the night before. I'm running on three hours of sleep because I was trying to back up my phone all night… I haven't done it in a year. Whoops. I get up 15 minutes before my car comes. I brush my teeth and meet the driver downstairs. The drive to LaGuardia is actually kind of nice. It was smooth sailing for the most part. The sun turns the night clouds into cotton candy; I'm suddenly not annoyed about the early call-time. The ride costs a little more than anticipated. The driver thinks it's because I'm in Sunset Park, not Park Slope, where the car company is based. $50 
6:20 a.m. —  I check in at a booth and pay to check a bag. This is my first ever American Airlines flight, so this will be interesting. I was slightly worried they would say something about my dive fins being strapped to the outside of my duffel, but it passes through security perfectly fine (yay TSA pre-check). I feel bad for a family of teen girls and their mom, who are at the wrong airport. That is my worst travel fear. $30
6:35 a.m. —  I fill up my Nalgene with water but I'm in desperate need for a coffee. Tall dark roast (black) from Starbucks and a morning bun. 
$5.99
7:56 a.m. —  Flight takes off on-time. I put on my noise-canceling headphones, play some movie scores, and snooze.
Comments
comments